The Planthunter is an incredible Australian publication first brought to my attention a few years ago by Loree at The Danger Garden. I've been grateful ever since. If you're not familiar with it, take a look–there's reliably excellent, thought provoking reading there about all aspects of plants and our relationship to them.
This month The Planthunter includes an interview with Oakland landscape designer and author, Leslie Bennett. I was excited to see it because I (with a group of Garden Bloggers) had the opportunity to meet her in San Francisco a few years back. Her book, written with Stefani Bittner, is one of my favorites: The Beautiful Edible Garden: Design a Stylish Outdoor Space Using Vegetables, Fruits, and Herbs.
Leslie's Black Sanctuary Gardens project and the reasons behind it will make you think about how race informs gardening, and also about how and why we humans garden.
You can read it here: "Rest, Repose, and Race: Leslie Bennett and Black Sanctuary Gardens".
---
Time to Decolonise
Via Thomas J. Mickey at American Gardening, this article from Kew about the racism inherent in plant collecting and "discovery," is a step toward changing our language and perceptions of European botanical history: "Director of science at Kew: it's time to decolonise botanical collections".
If you're an auditory person, the following podcast with a broader scope, is excellent.
---
A consolation prize for anyone who is sad about the Cullowhee Conference cancellation (or for anyone who's interested in native plants) is that Larry Mellichamp and Paula Gross, along with photographer Will Stuart, have teamed up on a book, which happens to be coming out right when Cullowhee would normally be. The release date is July 21, but you can pre-order it now. Just click the book cover below.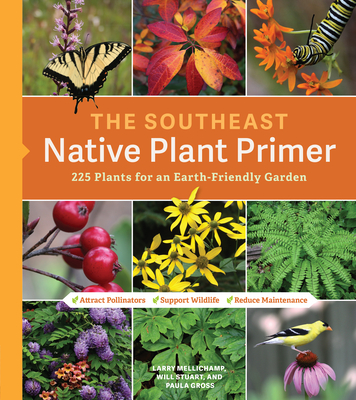 ---
I did a few more reports from my garden this month…
River Oats, Elderberry, and Gardenia
Visitors, Enjoyable Chores, and Tiny Fruit
…and added new pictures to the Folium which can help you recognize these plants if you don't know them:
Rhus aromatica (Fragrant Sumac)
Chrysogonum virginianum (Green-and-Gold)
Ruellia caroliniensis (Wild Petunia)
Clinopodium vulgare (Wild Basil).
---
Lastly, I decided to check out Pinterest for the first time in a while. It's still just as full of great ideas and wonderful eye candy.
If you're a pinner, Follow me!
Here are a few of my boards that you might like:
Favorite Books for Gardeners and Other Plant Lovers
---
Thanks for reading!
Daricia